The first time I went to Pulau Carey is during a photo outing with some Photomalaysia forummers. That time i didnt bring my long lens.. saw a
Collared Kingfisher
at the beach that day but did not manage to shoot it..
This time around, I went again hoping to see the kingfisher again.
On the way to the secluded beach,saw a Crested Serpent-Eagle(
Hel
ang Kuik
) perched on a dead tree beside the road..
it looked big, almost fooling me to think its a bigger eagle like the greater spotted eagle. I stayed an shoot for like 30 minutes. Seems like no action from the eagle, maybe just enjoying the breeze. So I drive to the beach..
It seems that the tide was high.. so no walking on the beach as before, so just parked my car and thinking what to do next..
then...
at a pond/drain behind the bund I saw a pair of White-breasted Waterhen(
Ruak-Ruak
) with its chick, seems like 2 chick following each parent.
Waiting for the chick to follow.
Bigger view of the black chick..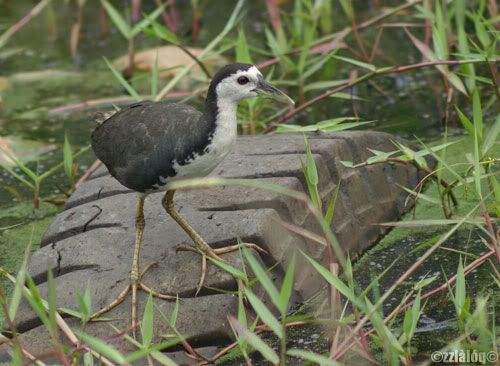 Another adult. Which one is male or female, I dont know...
After they have finished their business at the pond, they went away.
Not long, some squirrel call grabbed my attention. Always fooled me thinking it a bird call.. Well its just the common Plaintain Squirrel (
Tupai Pinang
)
It seems gravity didnt stop it.
Then my battery drained out.. so have to go back..
On the way back, the Crested Serpent-Eagle is still there, same perch.. so is I counted at least 3 Black-shouldered Kite on the telephone cables by the roadside..
sigh... out of juice!
for the record, this trip is on 3rd October 2009.