Suatu hari semasa saya berjalan-jalan di suatu denai di Taman Pertanian Bukit Cherakah, saya ternampak macam pangkin di satu ceruk, saya pun pergilah melihat dengan lebih dekat..
Lah! perangkap binatang rupanya. Naik marah saya, di sini pun ada juga orang yang hendak menangkap haiwan secara haram. Saya ambil pisau saya dan saya potong semua tali2 yang digunakan.. habis saya potong pendek2 supaya tidak boleh digunakan lagi.
One day as I was walking down a trail in Bukit Cherakah Agriculture Park, I saw what looks like a small hut at one corner, so I went nearer to have a look.
Oh! it is actually an animal trap! I've gotten mad! Even in then protected area of the Agriculture Park there is still poaching going on. So I took my knife and cut all the ropes that have been used in short pieces so it cant be used anymore.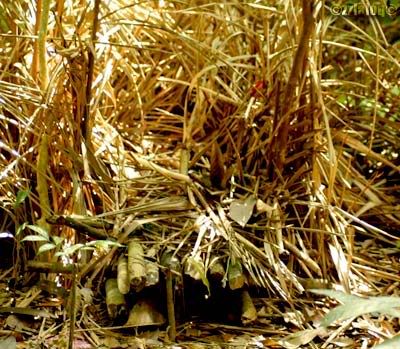 Ni dia rupa perangkap itu.. silap saya, patutnya ambil gambar dahulu, baru musnahkan perangkap.. macam nak tangkap biawak sahaja.
This is the trap, my mistake! I've should taken the pictures before destroying the trap.. looks like a trap for monitor lizards.
Bila saya masuk balik ke denai tersebut, saya dapat mendengar bunyi bising burung.. terus saya meredah semak dan pokok rotan yang berduri untuk melihat apa burung itu. saya jumpa sekumpulan burung kambing. Burung ini termasuk spesis burung yang terancam.
When I went back into the trail, I could hear some bird calls, so I walked through some bushes and spiny rattans to see what is the bird.

I saw I bunch of Black Magpies, a near threatened species
Gagak Kambing

Black Magpie
Platysmurus leucopterus
Mungkin sekeluarga burung kambing. Mungkinlah yang sedang memerhati sahaja itu ibunya, dan 2 ekor yang sedang berebut seekor katak anak-anaknya. Bagaimana agaknya kalau burung boleh bercakap macam manusia?
Maybe a family of Black Magpies. Could it be the one that is watching is the mother and the other two that is fighting over a frog is the juveniles. What if the bird could talk just like humans?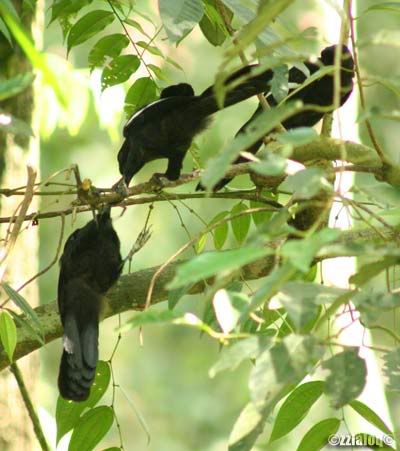 anak burung 1(di atas): Woi! Woi! lepaslah katak ni.. kan aku yang tangkap katak ini..
anak burung 2(di bawah): Mana boleh lepas, katak ni aku yang nampak dulu!
Juvenile1(above): Hei! let go of this frog, I'm the one who catch it!
Juvenile2(below): But I'm the one who saw it first! How can I let it go?
anak burung2: lepaskan! lepaskan!
mak burung: ish ish ish! apa kamu buat nih?
juvenile2: Let it go! Let it go!
mother: what are you two doing?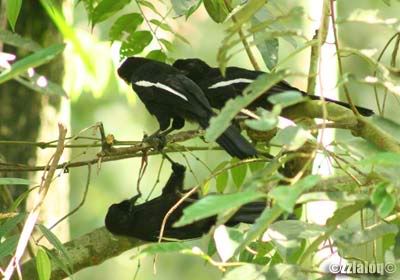 mak burung: kamu berkongsi apa salahnya. lepaskan..
mother: why dont you two share.. let it go!
anak burung1: mak, nanti saya lepaskan, jatuh pulak dia.
mak burung: laa...kan dia ada kepak!kalau dia jatuh dia terbanglah..
juvenile1:mum, if I let go, then he will fall!
mother:we are birds! if we fall we can fly back!
betul, anak burung2 jatuh dengan katak tersebut, tetapi dia boleh terbang.
Correct, the hanging bird did fall, but fly back up with the frog.